If you are looking to sell your house, you should know that the best way to earn a bigger profit is to improve some of the basic and most critical amenities such as the bathroom and the kitchen. These two areas of the house can also be quite expensive to upgrade. While the covered area of the bathroom and the kitchen is possibly the smallest of any part of the home, what makes it expensive is the cost of the fixtures and fittings that are used in these areas. Especially in the case of kitchens, modern designer fittings, high-end appliances, and high-quality finishes can put a serious dent in your wallet. However,  a few solutions will help you make the most of the resources you have and help you get a better finish without going out of budget. Here are the top tips you should know about kitchen renovation.
1. Refacing Surfaces
One of the biggest problems while upgrading the kitchen is that the cupboards and the overall panel work make up the bulk of the visible surface area. When it comes to changing the look of the kitchen it can be extremely expensive to replace all this paneling. A smarter solution is to use the same cabinets and drawers but to reface the exterior. If you want to reface cabinets, make sure your paneling is either solid wood or MDF as this process will not be effective for laminated or acrylic panels. The process is very easy to do and requires only basic tools. The other components that will be needed for the job are also quite cost-effective, though it is a time-consuming process. Depending on how much paneling you have, it could take a couple of weeks to cover the entire kitchen but will be significantly cheaper than changing the panels.
2. Modify Countertops
One thing that you can never have enough in the kitchen is usable countertop space. Whether that is for cutting or just storing your most handy appliances, having a little more room to work always makes life a little easier. This can be easy to do and according to costshed.com, it can also be an affordable way of improving your kitchen experience. For instance, if you have an old bit of countertop space that needs to be redone, why not remove that specific part alone. Instead of getting a full new counter, you can replace the faulty part with some new materials or an integrated wooden cutting board. As mixed wooden surfaces are in fashion these days, this will also add some color and style to the space while providing you with a sturdy surface to work on.
3. Convert Old Furniture
The kitchen is a space where you don't only cook but also spend a lot of time throughout the day. Having some basic amenities in this space can make it a lot more hospitable and comfortable to work in. If you are looking to add some more workspaces in the kitchen, why not recycle old furniture. You can easily repurpose old items like bathtubs, stand-alone tables, old chairs, and even mirrors to decorate other areas. These items can be useful pieces of furniture in the kitchen space and can even be converted into storage space. Get out all that old furniture and look into how you can use it in the kitchen.
4. Upgrade Hardware
If you are looking to upgrade the hardware, you should look into pre-owned components from commercial kitchens. Not only are these extremely powerful and very efficient machines that are built for industrial use, but you can get some in fantastic condition at bargain prices. Many restaurants that either close down or take machinery out of operation before the due date sell this machinery off for very cheap. You can score a fantastic deal on a cooker or an oven or any appliance if you look hard enough for it. It might take some time, but it will be well worth it, in terms of the money you save and the performance.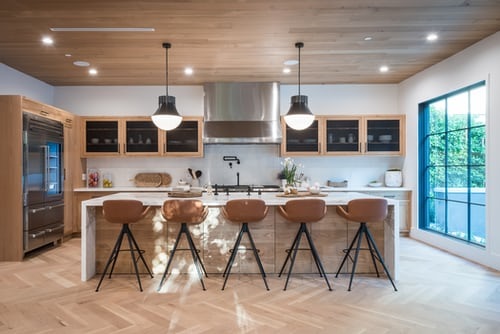 Kitchen renovations, especially when you are doing it on a budget, are something that you shouldn't rush through. Simply doing things yourself and waiting to find the right deal on things you want can save you a lot of money. Moreover, making use of used materials might be cumbersome to do, but it will serve you much better as you can carve things into exactly what you need. These custom-built solutions will offer you much more functionality, and they will be a unique feature of your home where you spend your time creating magic.