Stress is your body's natural response to new situations. It's a completely normal human reaction that keeps you alert, cautious and motivated. However, too much stress can cause physical, emotional and behavioural problems that can affect your overall well-being and quality of life. Recognising and treating stress symptoms is difficult because it's a rather subjective experience that can't always be accurately measured with tests.
Unfortunately, most people don't know that they're stressed until they start experiencing stress symptoms like elevated blood pressure, headaches, insomnia, chest pain, anxiety, agitation and so on. Although it's virtually impossible to avoid stress altogether, you can incorporate certain stress management techniques into your daily routine that'll help your body cope with stress and its symptoms. One of the oldest methods that can help you ease stress without the use of medications is aromatherapy.
Start Your Aromatherapy Journey with the Lively Living Aromatherapy Range
If you decide to make aromatherapy part of your everyday rituals, you should always acquire your aroma essentials from trusted sources such as the leading Australian aromatherapy supplier Lively Living. A long-established brand on the aromatherapy marketplace with hundreds of stockists all over Australia, you can easily find Lively Living products online and in-store. This brand offers a vast range of essential oils and blends, as well as innovative aromatherapy diffusers.
Essential Oils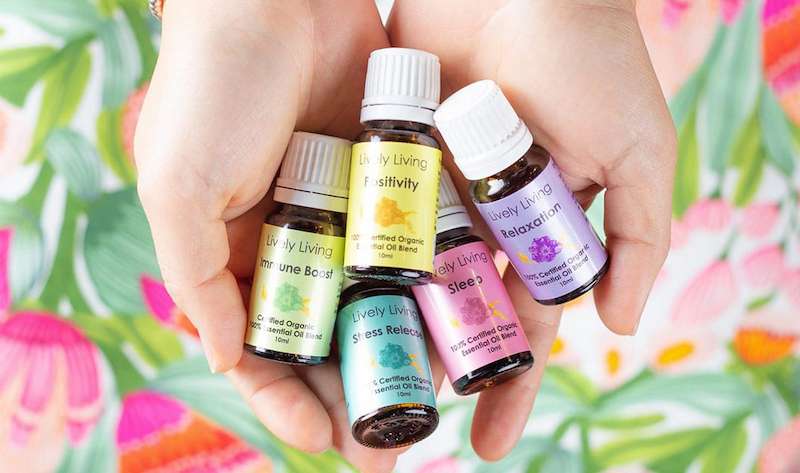 Their essential oils are of the highest quality and purity, ethically sourced from farms all across the world and often purchased directly from the growers. The entire range of essential oils is backed by the ACO (Australian Certified Organic) logo as a stamp of approval for guaranteed satisfaction and peace of mind. Locally bottled and blended without the use of chemicals and synthetics, Lively Living oils are also 100% vegan and cruelty-free.
Diffusers
The brand's diffuser devices set the standard for quality and performance. The brand's partnership with Ultransmit – one of the pioneers of ultrasonic diffuser technologies has brought several advanced aroma diffusers exclusive to the Australian and New Zealand markets. Lively Living's diffusers come in a variety of shapes, sizes and colours, carrying both functional and aesthetic value.
How Does Aromatherapy Help with Stress?
As an age-old form of alternative medicine, aromatherapy and essential oils work through the sense of smell or skin absorption to support and improve psychological and physical well-being. The aromatic materials used in the practice stimulate the brain's limbic system which controls our emotional and behavioural responses such as the fight or flight response. Inhalation and topical use of essential oils send trigger messages through the senses, enabling us to communicate our needs with our brains.
Does aromatherapy really work? Although studies have shown that aromatherapy can ease stress, its effectiveness greatly depends on the way you choose to practice it, and of course, the quality and purity of the essential oils. Simply put, the higher the purity, the more potent and effective the essential oils will be.
Choosing Essential Oils for Stress Relief
As previously mentioned, Lively Living's essential oils and diffusers can help you harness the healing powers of aromatherapy safely and effectively in the convenience of your own home. By combining traditional knowledge with modern science, the brand offers a variety of aromatic blends with proven stress-relieving properties, safe for use for the whole family.
If you're struggling with symptoms of anxiety and agitation, the Harmony blend can help you introduce calm in your life. This blend combines the qualities of organic sweet orange, cedarwood, bergamot and geranium to help one feel at ease and centred while at the same time instilling positivity.
The Relaxation blend is yet another mighty stress reliever that utilises the soothing properties of organic lavender, Roman chamomile, palmarosa, cedarwood and geranium to calm the senses. You can use it as a part of your night-time rituals to gently guide you to a restful night's sleep.
Of course, you can also use LL's essential oils to make your own blends that tackle the specific symptoms that you may be experiencing. For instance, if stress is causing you physical symptoms such as headaches and migraines you can combine peppermint and lavender oil to treat both the symptoms and the culprit.
Using Essential Oils
There are several ways in which you can attain the benefits of the ancient practice of aromatherapy. However, the safest and easiest method is to use an ultrasonic diffuser to fill the air with harmony and positivity. An ultrasonic diffuser is a device that disperses molecules of essential oils into the air. The ultrasonic vibrations release the aroma through a fine mist which is a safe and effective way to inhale the oils. Since ultrasonic diffusers use water to function, you can also use them as small humidifiers to improve the air quality in your space.
If you're looking for a tried and tested ultrasonic diffuser that doesn't cost a fortune, look no further than the LL Aroma Bloom devices. Aroma Bloom diffusers may be cute and compact, but don't let that fool you. These ultrasonic devices pack several innovative features to cleanse, purify and refresh the atmosphere. Moreover, the Aroma Bloom diffuser fills the air with negative ions which clear the air from pathogens and allergens. Available in several on-trend colours, you can easily find an Aroma Bloom diffuser that'll fit right into your decor.
Another way of practising aromatherapy is through the topical use of essential oils. If you opt to use essential oils on the skin, you should always dilute them in carrier oils to avoid adverse reactions such as irritation and burning. Some of the widely used carrier oils are derived from coconut, jojoba, avocado and olive plants.
Although not quite popular as the first two methods, aromatherapy jewellery deserves an honourable mention for the simplicity, ease of use and versatility it offers. Essential oil jewellery is specially crafted to trap the aroma inside and diffuse it throughout the day without the need for topical application, electricity or batteries.
Closing Thoughts
It doesn't matter which method you choose, you should remember that essential oils shouldn't be taken lightly instead, they should be treated as medicine, kept away from the reach of children and pets. In addition, if it's your first time using essential oils, you should consult a professional to avoid any potential side effects. With that being said, you're now ready to embark on a wonderfully fragrant journey to relaxation and stress relief.