DOJA CAT LIFE STORY
Here is an interesting thing about a dazzling and magnificent young lady- DOJA CAT. The name sounds a little weird. But there is an interesting story behind it. let us just look onto the Doja cat.
BORN HISTORY:
LAND OF BIRTH: Tarzana, los Angeles, California, United states
BORN DATE: 21st of October, 1995
OFFICIAL NAME: Amalaratna Zandile Dlamini
PARENTS HISTORY:
Doja cat's mother- Deborah Elizabeth sawyer. She's basically from American. Her 0ccupation is a Jewish-American painter. Doja cat's father: Dumisani Dlamini. He's from south Africa. His occupation are actor, composer and film producer of ZULU ETHNICITY. Here Is something interesting. It seems that Doja Cat never met her father.
EDUCATIONAL HISTORY ABOUT DOJA CAT:
She is the girl who dropped out of school in the year 2014. She started to compose and write the songs. It was said that she used to surf and browse the internet for several different tracks in all the day and nights. She started to write and compose the songs at a very young age and releasing it on the SoundCloud when she's is a teenager.
ACHIEVEMENTS AND HER CAREER(2014-2021):
The story starts in the summer of 2018 when an abscure singer from LA posted an unassuming tongue-in-cheek music video about cows on her youTube channel. It sounds weird. The song simple repetitive instrumental to its half comedic half boastful lyrics. dojo cats moo was set up to the perfect meme sure enough the video. immediately it went viral, receiving million of views within just a few days of its release date. Dojo cat was thrust into the limelight overnight but unlike other artist who have used memes to reach mainstream fame such as Lil nas X delta. She had signed to a major label since 2014.
In this article, we are going to see how she went from a failed album and just reached 60000 Instagram followers to nearly 4 million followers and hundreds of millions of streams by continuously improving her craft while also harnessing the power of memes to market of her music.
BUILDING HER OWN EMPIRE IN THE MUSIC PLATFORM:
Doja cat spent years building her music career without reaching mainstream success. She first started releasing music on Soundcloud in 2013 dropping her debut singles so high. A psychedelic R&B song that got a decent amount of attention Spotify with around 30 million plays on Spotify in 2020. From there she was signed to RCA. just a few months later releasing her debut EP deeper in the summer of 2014.
More than four years before the release of mood and the start of her mainstream career. looking back, it's difficult to find coverage or reviews of or anywhere. It's not that it wasn't good but journalists weren't jumping to praise it either. And there wouldn't be another major Doja cat release until 2018 when she started rolling out her debut album- AMALA. It is an energetic album nest which is definitely between moody Rab and high ten hip-hop. But it too failed to make a big impact in the industry he peaked at the number 138 on the billboard, 200 with no real hit singles or videos. But everything changed in august of 2018, just a year and half ago. When Doja cat spontaneously released Moo on you Tube, the song is for all intents and purpose a ship post. But it completely transformed her struggling career. She also stated in an interview that "I feel really lucky that this song has created a platform for my debut because that wasn't the intention behind the song. My last album actually got no support. There is nobody trying to push it. Now KATY PERRY is tweeting me which is cool.
HOW SOCIALLY SHE GOT FAMOUS:
Now on looking on the Doja cat's Instagram on august 18 2018 just a week after she dropped to mu when she had around 250000 followers. She was getting around 10 to 20000 likes per post. After a year and half she has around 4 million followers on Instagram. Now presently, she has around 10.9 million followers which a quite large number of followers she has.
Hundreds of millions of streams and she's touring he world and none of that would have been possible without a 4-minute video of her rapping about cows in front of a green screen. And it wasn't accident. This rise to fame over the last year and a half took strategy, hardwork and most importantly a commitment to not taking herself tooseriously. And always leveraging internet memes as a way to market herself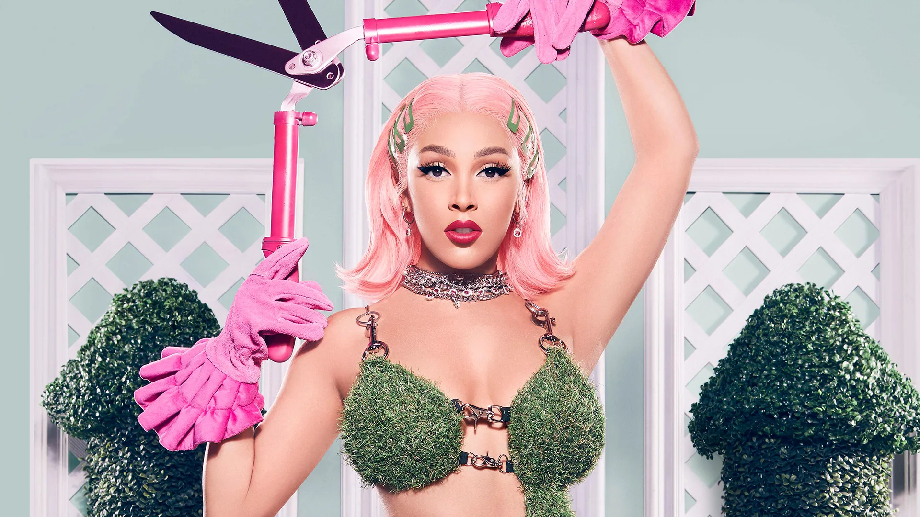 TOP 10 SONGS OF DOJA CAT:
Rules- 21.792.000 STREAMS
MOOO!- 36.152.000 STREAMS
Go to town- 36.333.000 STREAMS
So high- 39.135.000 STREAMS
Tia Tamera (FT. RICO NASTY)- 54.410.000 STREAMS
Juicy- 56.913.000 STREAMS
Juicy (FT. TYGA)- 86.407.000 STREAMS
Candy- 95.083.000 STREAMS
Say so- 128.519.000 STREAMS
Doja cat is one of the most popular artists out today. But it wasn't easy journey for the artist. When the song AMALA released on march 30th 2018, it was a commercial failure.
It was also an appreciable moment for the Doja cat where she sung and recorded a song in a single day in just12 and a half an hour. How could that be possible !.
Yeah, it is possible for Doja Cat. Her struggling and her passion to become something in the world, to recognize her as one of the famous singer, rapper, songwriter in America. It just happened in her life.