A wedding band is a sign of unwavering commitment. It deserves time and research while buying because it is not just another jewelry piece. A lot of emotion goes behind wearing it; also, it is something that most men prefer wearing almost all the time. Thus, elegance, sturdiness, beauty, and of course, durability; and not to mention, durability, are some of the features one looks for while buying mens wedding rings.
The wedding rings for men are not as elaborately designed as those meant for women. These are mostly plain and occasionally engraved with some subtle elements. Thus, it is the base material that turns out to be the most important deciding factor while selecting these rings.
Precious metals, usually, form the base material for designer men's wedding rings. However, choosing the metal can be quite confusing because of the availability of numerous options around.
Best Metals for Men's Wedding Rings
To clear the confusion, we bring you here an overview of the best metal choices for men's wedding rings and what to expect from these.
Wedding and gold are mostly mentioned in the same breath. If a wedding is the pompous show of wealth and status, Gold is the classiest representative that fits such shows easily. It is loved for its glorious history, rarity and looks. Previously, only Yellow Gold was the choice deemed fit for wedding rings. With the change in times, Gold has got the variants as white gold and rose gold. It is easy to work metal that accepts engravings effortlessly.
Used mostly in 18K purity because of the strength and malleability issues, Gold is quite a favorite among the buyers who want to get something exquisite for a wedding ring. This metal, however, may require occasional polishing from professionals as it tends to lose its shine with regular use over the period.
Platinum
Platinum can rightly be called the new age Gold. With strength better than Gold, it is offering a more prestigious and pricier alternative. This metal is the choice of lovers of sophistication. It is quite modern yet royal in look. It is exceptionally durable and does not demand polishing or plating if it is worn not every day, literally.
Platinum is now being explored and experimented with more by the jewelers. They find it easier to work upon and are utilizing its strength and shine to create a multitude of designs. Platinum is slowly invading the Yellow Gold market. Those who are ready to spend a few extra bucks now prefer platinum over gold for the wedding rings.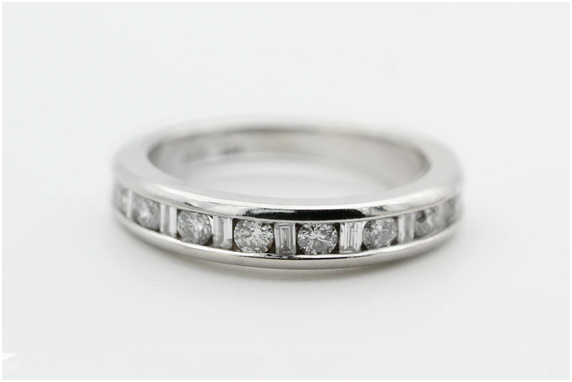 White Gold
If the yellow tint of yellow gold is not getting nods from the modern buyers, push the envelope with a white gold option. This is yellow gold transformed into white by alloying it with platinum or palladium. The resultant allow is further plated with Rhodium. This is the reason why its luster is so prominent.
White gold is being used widely as a base material for making wedding rings for men. It does require regular luster restoration, though. Thus, those men who do not wear wedding rings quite regularly can consider buying a white gold ring.
Palladium
Palladium is a newfound luxury for wedding rings for men. It's hallmarking as precious metal started in 2010. This precious metal has a lot of advantages to offer. It is a low maintenance metal as it is exceptionally scratch-resistant and maintains its natural hue without frequent polishing. This metal is quite valuable because it is not available so easily.
So, rings carved in Palladium do not offer many options. Some buyers have reported it to be hypoallergenic in nature. Thus, it is advisable to have a skin compatibility test done before making a purchase.
Titanium
Titanium is one of the very hard metals available around. It is commendable for representing strength and stability any couple seeks in a marriage. This metal is just next to Tungsten in hardness that measures big 6 on the Mohs scale.
For people having a vigorous lifestyle, a wedding band made out of titanium is a great option. It may not be easy to resize; thus, titanium rings should be bought only after trial. Easy to work, one can try stylish carvings on Titanium rings.
This ring is quite lightweight, affordable. It can be used as a replacement for precious metal rings made in Gold or Platinum when the user is afraid of losing them while at work.
Meteorite
Want to present something out of the world to your husband? Go for a meteorite ring. This is an innovation exemplified. The base material is actually the debris from the space. It is largely iron in composition, so it requires maximum care to avoid rusting. It is loved as a wedding ring for its natural cuts and unique pattern. Fit for occasional wearing, this ring feels light on the pocket too.
Uniqueness, style, skin-friendliness, rarity and good looks accompanied by sturdiness are some of the common virtues that have made these metals the best sellers in men's wedding bands category.