Are you bored with your garden? Does it need sprucing up? Look no further as this article has five creative ways to improve your garden. These tips and tricks are inexpensive and fun ways to breathe some life back into your garden.
1. Pop of Colour
Adding a pop of color can make all the difference to your garden and there are many ways that you can do this. For example, if you have a fence, a shed, or a wall in your garden, you could give your chosen area a coat of fresh paint. Consider using light or bright colors, as if you use a darker color this can make your space feel more gloomy and small. Yellows, blues, and teal are always great options!
2. Install a Murphy Bar
A Murphy bar is a foldable construction that is usually fixed to a wall or sturdy surface. It is a great option for those with smaller gardens, as you can enjoy entertaining guests with your bar and then once you are done you can just fold it away. Additionally, this is something you can build yourself, and Workshopedia has some useful tips for DIY garden projects like this. It is space-efficient and has lots of potential for design. You can pimp out your Murphy bar with cute lighting, paint and even pop some plants around it.
3. Put Up Some Garden Accessories
There are endless options for garden accessories and you can use this to decorate your garden however you want. Unique plant shelving units are quite a popular option at the moment, and 'ladder' shelves are a great way to show off all of your beautiful plants. Additionally, hanging plants from walls and fences make your garden feel fuller and creates a sense of 'levels'. Leveling your garden means that you have things at different heights, which is what creates that sense of level.
Garden accessories have come a long way from your standard garden gnome, and you can find beautiful statues, features, and more to personalize your garden.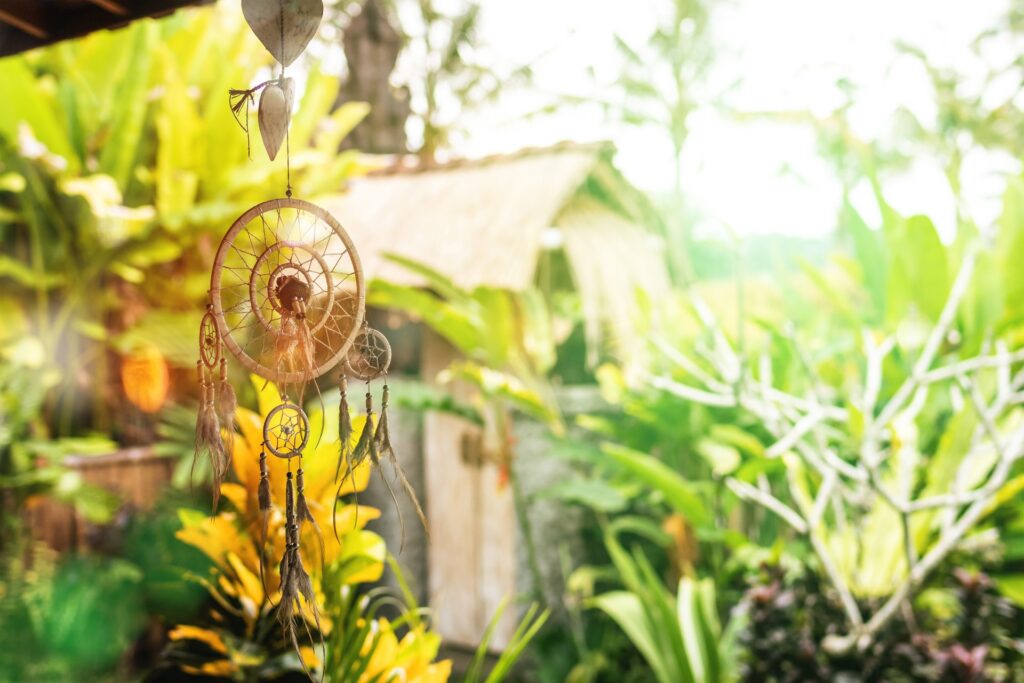 4. Lighting to Improve Your Ambiance 
Lighting is a great way to create an ambiance in your garden. There are several options for lighting up your garden, for example, the use of solar-powered fairy lights. This is a fuss-free option that means you don't have to worry about using electricity or battery-powered products. You can just place them where you like and let them do their thing! The light bulb hanging lights also add a cool and crafty look to your garden.
5. Add Flowers
Adding flowers is a great option all around because they are inexpensive, colorful, and also therapeutic when it comes to planting them and taking care of them. So not only will they make your garden look better, but they will also make you feel better! It is a win-win. You can have a lot of fun with this, as you might even opt for a color scheme among your flowers, or you might just go for a random mix and match. Either way, your flowers will bring a nice element of color and life to your garden.
6. Add a Water Feature
A water feature is a fun idea for any garden, and these features can be big or small. Often when you say water feature people think of grand fountains that take up a lot of space and require a lot of maintenance. However, it can be quite the opposite, there are plenty of small water features to choose from and some very creative ones at that. A small waterfall or a small sphere of water features can take up very little space, yet look stunning in your garden.
7. Create a Bird Feeder
This may seem like a trivial thing to have in your garden, but sometimes it is okay to do small touches that have small rewards. You can create a bird feeder that is cute to look at and you can enjoy the small pleasures of watching the birds come and go. If you are someone who enjoys the sounds of nature, then this is a great idea for you as you can listen to the sweet sounds of the birds chirping in your garden.
There are many ways to get creative with your garden, and with summer around the corner we will be spending plenty of time in our gardens, so it is worth having a space that you feel proud of and a space that feels comfortable. Improving your garden is a fun project for all, whether you are doing it solo or as a family.