Pets bring unexplainable happiness to our homes. In return, keeping them safe and healthy is important so they can be with us for a long time. The goal is to treat them like family in hopes that they can be around the different seasons of their lives.
There are many ways to keep tabs on how our pets are doing. Of course, different types of pets have different needs, whether a dog, cat, fish, tortoise, or whatever species fits the homeowner's lifestyle. Yet there are general tips that we can apply.
Let's make health a top priority for our little loved ones. Here are a few tips on what we can do.
Food and Nourishment
Like humans, pets need to eat and fill themselves, but we don't just give them food for sustenance. We need to consider what nutrients and ingredients are in their food. It's best to choose premium pet food that will increase longevity and help fight against illness and disease lurking around the corner.
When pet food lacks the vitamins and nutrients they need, a noticeable change in the animal's appearance and actions will manifest. For instance, furry pets can experience hair loss. Pets can also feel sluggish and immobile. For reptiles, discoloration in their skin and scales can occur.
Here are other tips on feeding pets:
When choosing pet food, check the label to see if it meets the needed nutritional value for the pet.
Overfeeding animals is not recommended. The same goes for the supplements that are being provided to them.
Checking with their vet for recommended portions is essential. This also helps to determine if a disease came from food intake.
Pet Exercises
As with humans, exercise also stimulates pets' physical and mental health. The intensity and frequency of the exercise depend on the pet. The breed and personal attitude of the pet will also affect the activities their owners will facilitate.
Walks are an excellent aerobic exercise that will get the hearts of pets pumping, especially dogs. Play can also be a form of exercise. Even a 30-minute walk is a great start.
Other pets may require unique activities to sweat it out. For instance, rodents and birds can exercise by moving through courses or tinkering with static toys. Cat owners can install dangling toys or balls with which their pets can paw.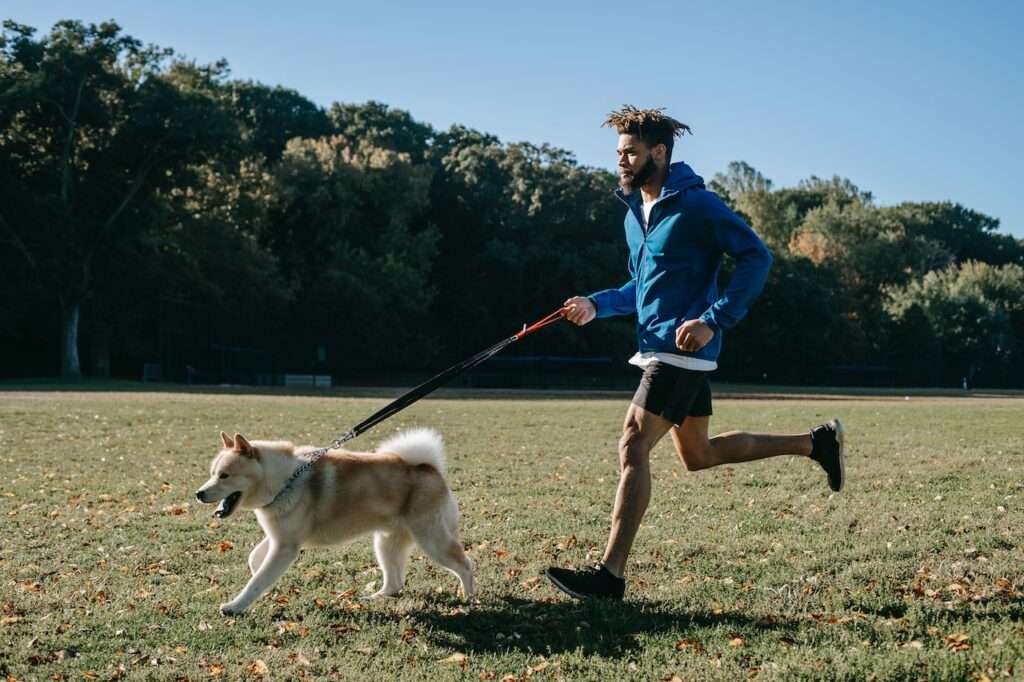 Photo by Zen Chung from Pexels: https://www.pexels.com/photo/active-man-training-with-dog-5749781/
Veterinary Visits
Pets don't only need to be taken to the vet in times of emergency. Vets are there to guide us on how to keep our pets by our side for much longer. While information is now at the tips of our fingers thanks to technology, going to a professional provides a more personalized diagnosis and treatment.
It's important to locate your nearest vet when raising a pet. It saves time and even lives when an emergency happens. We should also know how to provide first aid to our pets to give them enough time to get the medical help they need in case of an injury or accident.
Animal behavior specialists are also available for more common household pets like cats and dogs. Some pets inevitably develop behavior problems, such as separation anxiety and trauma.
An annual or biannual visit to the vet is recommended to keep pets healthy and away from potential health problems.
Pet Vaccination
Pets need vaccinations when reaching the minimum required age. Vet clinics offer these services, or one can go to government-funded activities that provide one. As pets can catch diseases anywhere, they need vaccines to increase their resistance.
In addition, most places require pets to be vaccinated as a legal requirement in keeping one. This is to protect both pets and owners alike. It's a way to keep them around and will help save money for sicknesses that may need curing in the future. As the famous quote goes, "Prevention is better than cure."
Be a Responsible Pet Owner
Keeping pets healthy carries a mix of joy and responsibility for the pet owner. Aside from the cues that make them wiggle their tails with excitement, raising them right is a huge factor in determining how long they'll stick around. With these simple tips, we make our friendly animal companions healthy and happy.