Choosing a photographer is a daunting task, but it doesn't have to be stressful. The right person will be able to capture the memories that you want to have for a lifetime. You may want to relive your big day after it has passed, and the right photographer can take you back to that magical moment. So what are the steps you should take when searching for a fantastic wedding photographer?
Select A Photography Style That You Like
Photography is an art that is very different from any other art. A professional photographer can make your big day even more special. You can look at their photo books or portfolios online and then decide which style suits you best. There are four types of wedding photography:
1. Traditional: 
Traditional wedding photography is the most common type in North America and Europe. Photos are taken mainly in posed shots with professional equipment in a studio or on location with indoor and outdoor spaces.
2. Photojournalistic: 
Photojournalistic wedding photography captures moments as they happen without any setup or posing.
3. Artistic: 
Artistic photography is the non-traditional approach to taking photographs. It usually requires more time spent on getting the right shots. It is a type of photography that captures the fleeting moments and emotions of a wedding day. It typically features candid, natural photos.
4. Lifestyle:
 Lifestyle photography seeks to capture candid moments without interrupting or influencing the scene. It usually involves a photographer with a small, unobtrusive camera taking pictures as people go about their daily lives.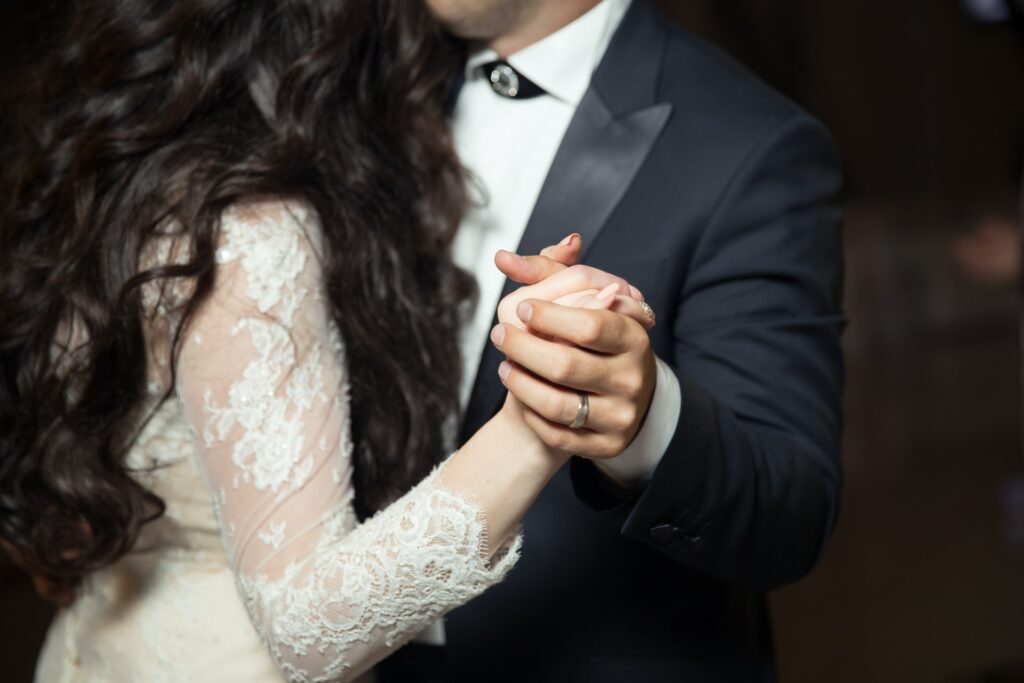 Check If They Also Offer Videography
Wedding videography has become a relatively new and growing industry. It is a type of filmmaking that captures the emotions and memorable moments of your wedding day, which you will be able to look back on through the years. Videography is a form of documentation that captures the story of a wedding. The videographer captures the memories on film and edits them into a final product for the bride and groom to share with their friends and family. A wedding videographer typically uses professional-grade video cameras, microphones, mixers, lighting kits, tripods, or sliders to capture footage from multiple angles.
Conduct An Interview With The Photographers
You should always request to examine the work of the photographer (or photographers) who will be photographing your wedding in every circumstance. In some situations, you may use a specialist company that hires in-house photographers. One such company, Kapturly wedding photographers, states that they thoroughly vet all of their photographers before they are allowed to become part of their team. It is this kind of assurance that you need to look for when in the selection process. Nevertheless, you will still need to meet your photographer before the big day as it is essential to discuss the plans and schedule. If the photographer is working alone, it's not uncommon for them to delegate images to an assistant to focus on more prominent aspects of the day. However, this also means that you should request to speak with all those involved.
Establish A Budget
As with any wedding, the budget will be an essential aspect. Budgeting for photography is necessary because it will dictate what type of photos you can expect to receive, as well as the quality of the photographers you'll be able to hire. When establishing a wedding photography budget, the two most important factors are the number of hours you want your photographer to work and the type of coverage you want. In general, photographers charge a higher hourly rate per hour for a shorter time and a lower hourly rate for more extended events. An event with a small number of guests can be covered in just three hours, whereas an event with many more attendees may take up to ten or more hours. You should also factor in any tax and travel expenses that they may charge.
Organize Your Event
The most important thing to remember when planning your wedding photography is that you need enough time and space to take the photos you want. It is also essential to keep in mind the light conditions of your venue and what time of day you plan on taking your photos. You can discuss these things during the interview stage to see what they recommend from their previous experience.
Follow Your Gut Instinct
It's time to make your choice once you've assessed each photographer's work and costs and whittled down the possibilities. Remember that you'll be spending your whole wedding day with this individual, so you'll want to make sure you're entirely comfortable with them.
When considering the right person to photograph your special day, look for someone who can capture genuine, true emotions. To find this out, you will need to interview a selection of prospective photographers, assess their work, and ultimately come to a decision.